Find us on Google+
Google+
Worldwide Corporate SAP Training
IDES System Access
the "Internet Demonstration and Evaluation System" in the R/3 System, represents a model company. It consists of an international group with subsidiaries in several countries.
Subscribe
Fill this form to get our best deals that you won't find anywhere else.

Popular Courses

Short Videos

Quick Links

Practice Exams
New to SAP ???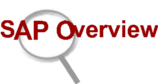 Enroll Today for the
FREE Seminar on
Prospects of a Career
in SAP

2 hours
with experts
Register Now
Why LearnSAP ?
We provide SAP training for all modules. Our expert trainers have many years of experience and most of them are SAP certified. The curriculum is carefully designed with input from industry peers, and constantly updated to reflect the shift of job market expectations.
Our graduates are more confident and score projects one after the other. Serving the SAP training industry since 1999, a vast number of former graduates have made it to the top.
Join today with confidence