SAP Training - The Whole Bunch of Benefits !!!
Setup a game plan for a successful career in SAP
Find us on Google+
Google+
Setup a game plan for a successful career in SAP
SAP training
SAP training is a serious business, one which apart from good and powerful training partner, requires a lot of due diligence on part of the student as well. We understand all implications and apprehensions one might have when changing careers because we have helped hundreds of people through the transition. It is even more critical to fully understand the mechanism of SAP training so that correct and realistic expectations can be set up between the student and the school. Due to the lack of regulatory body to govern the standard of curriculum it is essential to fully comprehend the quantity and quality of the deliverables.
Instructor
SAP is very flexible by nature which means that the same software out of the box can be configured for a variety of industries. While there are hundreds of books on best-practices for every industry but in reality each implementation is peculiar and far from text book guidelines. Eventually during your job interview you will be required to exhibit knowledge about these variations. A well rounded, knowledgeable and experienced instructor can not only prepare you for the technical knowledge but also for the tough interview that lies ahead. Some schools undermine this important factor by hiring under-qualified instructors with little or no diversified experience.
Curriculum
Most of the courses that are taught at private schools (schools not owned or operated by SAP) teach a shorter version of the actual course. It is important to understand what rules/reasons were applied to omit certain topics. If the reason was that the topic has little or no strategic significance in the local marketplace then it is ok.
Practice
This is the most critical part of the training. So far things have been moving along in a structured environment. After the SAP lectures are over, students are given projects to practice and this is where most of the people drop out due to lack of organization. Because now they are in-charge of their own schedule they tend to slack and gradually the topic slips out of hands.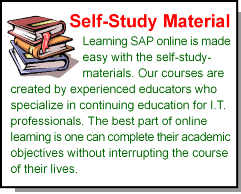 SAP Course Cost
Depending on number of students, instructors pay rate, venue and software applications as well as training material, schools can charge different fee. As a student what should matter to you most is the overall knowledge you walk out with. Student - Instructor ratio is critical. If the number of students is too many then you can not ensure one-on-one quality time with the instructor. If the number is too small than it is economically not feasible to conduct the class. The appropriate number is around 10 students. Under qualified instructor who is looking to review his knowledge will be willing to instruct for a small compensation which can also drive the cost down. Venue should be one with environment that is conducive to total learning. Every little detail matters.
SAP Course Material
Regardless of how condensed the course is, now is your chance to obtain the complete material required for certification so that if in future you want to write the certification exam you should have enough material in hand. So ensure you are getting enough reference material.