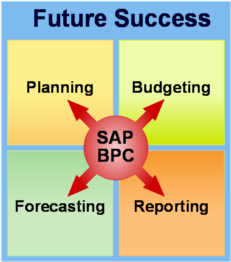 SAP Business Planning and Consolidation.
Planning - Budgeting - Forecasting - Consolidation - Reporting
Huge Demand - Fill the GAP - Learn SAP BPC
SAP BPC v.10 - Training Highlights

Start Date:
Location:

Online

Method:

Live

(Instructor-led)

Tuition:
Call +1-832-419-7371 for Prices
Schedule:
Day 1
Sat 07/23/2016
Day 2
Sat 07/30/2016
Day 3
Sat 08/06/2016
Day 4
Sat 08/13/2016
Day 5
Sat 08/20/2016
Technical Requirements:
Internet:
Highspeed
RAM:
2 GB minimum
Headset:
With built-in microphone
Software Requirements:
Operating System:
Windows XP or newer
Operating System:
Mac OS
Online Meeting
GoToMeeting (GoToMeeting.com)
Remote Support
TeamViewer (TeamViewer.com)
Timing:
9am to 5pm us cst (CST)
Books/Guides:
Step By Step Guide
System Access:
90 Days
Education Counselor:
(Monday to Friday, 9am ~ 5pm [CST])
+1-832-419-7371
Find us on Google
Google+
SAP BPC is a robust planning and consolidation application that can meet all of your budgeting, planning, forecasting, consolidation, and reporting requirements. Call +1-832-419-7371 for more details.
SAP Business Objects Planning
and Consolidation
version for the Microsoft platform
in this demo you'll see how the...
1. What is BoPC?
Business objects Planning & Consolidation software helps organization to plan future Income & Expenses as well Consolidate their Investments.

It is a robust planning and consolidation application that can catter all of your budgeting, planning, consolidation, and reporting requirements. You can generate consolidated financial and managerial reports for a globally distributed business or entity. The application can aggregate financial data from SAP and non-SAP systems into a single analytical reporting environment, enabling you to monitor the financial performance of individual subunits.

Solid strategic and operational decisions demand a reliable, up-to-date foundation of management. Reporting and analysis, planning and budgeting - these are the activities that help your company achieve the optimized costs, performance, and profitability it needs to stay agile and competitive in today's dynamic markets.

Unfortunately, it's not always possible to gather all of the information needed for these activities in time to facilitate informed planning and efficient consolidation. Tedious, error-prone, and incomplete approaches to organization and technology often hinder effective planning and consolidation processes. Over time, this can put your company's success at risk.

Planning with SAP BPC
In today's world of intense competition, it is necessary for organizations to plan and stay ahead. Planning is the life-blood of business, and the ability to spot opportunities and prepare for various courses of action has become imperative because the consumer's fast-changing needs require businesses to be vigilant and act with vision. To meet this objective, organizations are looking for software that can provide an enabling environment to handle planning needs. As we have discussed, SAP BPC has many features that make it an ideal tool for planning, designed to maximize your ability to manage and take ownership of data.

Its robust interface allows for customization and collaboration and makes it a compelling choice for planning. Unlike most software, this application reduces the dependence on the IT solutions team while providing more time for the team to handle the portions of application development and maintenance they best serve (i.e., system configuration and performance).

Consolidating with SAP BPC
The consolidation functionality of SAP BPC provides an environment to report the financial results of your entire organization. You can use it to determine the financial health of the company as a whole, after taking into account the currency translations, elimination of intercompany transactions, and other

necessary adjustments. When the consolidation report is prepared, the application considers different types of investments among organizational units.




Reporting with SAP BPC
SAP BPC enables financial reports in multiple formats (US GAAP, IFRS, and SEC etc).For statutory reporting requirements, SAP BPC 7.0 M offers International Financial Reporting Standards (IFRS) starter kit. UBmatrix is required for electronic communication of financial statements using extensible Business Reporting Language (XBRL) format.





2. Who needs it?
CFOs and executive teams are under constant pressure to maximize profitability, reduce operational costs, minimize risk, and improve stakeholder confidence. SAP Planning and Consolidation (BPC) is the industry-leading technology solution that's up to the task.





3. Various versions, when they were released and what was different?
Latest version of BPC is 10.0 (Prior to this we have 7.x and 5.x)
BPC 10.0 has

Web Interface
EPM Add-In reporting
Consolidation Central
Multi-Source Reporting





4. How is your training different from others who offer at half the price?
We provide highly informative, very latest and easily understandable training videos with frequently asked questions by our previous students. You will be given assignments and your questions will be answered by our expert team who will be available for you 24/7.





5. How long will it take for them to become job ready?
On an average it takes 8 to 10 weeks of extensive training and it also depends on how much time student is willing to spend and absorb.





6. What is the difference between technical and functional BPC?
Technical consultants require the in-depth knowledge of how BPC is configured. How are the objects created in the system. It basically involves the creation and configuration of various objects and functionalities in the system.




Functional Consultant needs to have a good understanding of the business and should also know how BPC works. Their responsibility includes understanding of the business requirement, and based on that they should be able to prepare the design document. This requires a good knowledge of the overall business, and also about the BPC system.





7. Which one do you teach, the technical or functional? Or both?
Both





8. Talk about a typical day for a BoPC consultant? Activities and responsibilities?
This could be anything from installation and configuration of the software, to training, to helping the customer customize the application to fit their particular needs, to whatever special projects or specified task(s) the customer needed assistance





completing. To be more specific, it consists of Data Loads, creating of Dimenions, Application building, Appset copy, Performance setup's, Formula maintenance, Script logic, DM Packages/(Process Chain / SSIS Packages), Reporting Template creation, Audit set-up. If he is a functional consultant then his typical day will be more of Data Validation, Business Rules Set up, Currency Conversion, Consolidation methods, Eliminations and Journals.





9. As compared to other modules, how is the demand for BoPC consultants and why?


In today's turbulent global economy businesses need a proven, easy-to-use tool for streamlining financial reporting and forecasting processes - one that delivers rapid ROI and business value that is measurable. SAP BPC is the best tool for the job.





10. What is the future of BoPC? Is there any word from SAP if they will come out a major upgrade or even a version change?
The next version is SAP BPC powered by HANA. Also adding new futures like

Time Dependancy
Using existing BW infoobjects as BPC Dimensions

| | |
| --- | --- |
| The most basic qualification for making a career in SAP BPC is a sharp and logical understanding of Management Accounting concepts such as planning, budgeting, | forecasting and consolidation. Finance work or education is a strong plus and so is experience in SAP FICO and/or BI. |

Highlight & Markers:

The training is object oriented & very Interactive with extensive use of markers & highlighter for effective & Advanced.

Big Picture:

The session starts with a bird's eye view of the Business, followed by closer look at system design.

Domain Expertise:

The instructor has worked in Banking, Insurance, Consumer Products, Utilities and Manufacturing clients. His real-time experience across these domains leverage mixed domain expertise to you so there is no need to re-invent the wheel.

2 Projects:

The instructor will assign 2 projects to you from Day-1 and guide you through out the entire process. The experience you gain by these projects will leave you comparable to very senior SAP BPC consultants.

Pair-Up:

Depending on the number of students in the class, you may be paired with another student to simulate team work.

User Forum:

Very clean, consise message board for students only. Covering all aspects of SAP software. Students can post their questions in the message board on our website and the entire group get email notifications when a reply is posted.

Interview & Certification Questions:

During the discussion / lecture the instructor will highlight the questions which the students are likely to encounter in the certification / interview.

Package of Work:

All the Session Assignments will roll up to a bigger project work so you perform a real time SAP BPC implementation project.

Structured Interfaces:

Each session is a Building block to next session, that teaches you a logical way of putting nuts & bolts of BPC to design a big machinery.

SAP BPC 7.5 Certified Trainer:

The Instructor is a SAP Certified BPC Trainer.

| | |
| --- | --- |
| When comparing schools, there are a lot of choices on the internet. It is important that while making the decision you compare apples with apples. This is why you should spend some time to get to know | the curriculum very well. A lot of times when there is a cheaper course available it is due to less content being covered. Our curriculum is carefully designed to exceed job expectations. |

| | |
| --- | --- |
| We have a special message board on our website which is dedicated to past and present students. This online community is closely watched by instructors and forum moderators to ensure that students get prompt answers to their questions and solutions for their problems. Previous students who have made it to projects also | contribute some of their time mentoring new comers. Graduates continue to use these forums to communicate with their mentors and piers about their experiences. They become the support system for each other while teachers and forum moderators continue to watch over their communication to validate the solutions exchanging hands. |



SAP BPC Course Curriculum<< Back

Day-1

Project Centric Training (2 Projects)

Planning Project (Revenue / Expense Planning)
Consolidation Project (US GAAP Based)
Live Project Demo
(Task/Task) (Topic/Topic) Full Blown Demos




Day-2

Business Introduction - Architecting BPC Solution (Stakeholders / Process Owners)

Master (Dimensions) -> SAP BW Info Objects
Transaction Data (Models) -> SAP BW Info Cubes
Design [BPC Administration]
Data Manager Loads (Master Data / Transaction data / Data Packages)




Day-3

Extreme Script Logic Sessions

Data Movement from Model-2-Model
Cross-Model lookup for BASE & Parent values
Explicit Logic calls
Performance Script Logic
Script invocation thru Data Manager Packages




Day-4

EPM BPC Reporting

Building EPM 10 Input Forms & Reports
Complex Scenarios catering
Multi Model Reporting
Multi Source Reports (BPC MS, BPC NW, BW)
7.5 Reports Migration to 10.0
SAP ECC (FICO) -> SAP BW 7.3 -> SAP BPC 10.0 Data Integration




Day-5

CONSOLIDATIONS (US GAAP)

Deep Dive Consolidations
US GAAP Methods
Step-by-Step Demonstration of COI thru BPF

Trail Balance Upload (For all Subsidiaries)
Intercompany Bookings & Intercompany Matching
Journal Adjustments
Currency Conversions & Intercompany Eliminations
Ownership %s (Static Vs Dynamic)
Method Declarations, Method Based Multipliers & Linking Rules
Consolidations - Close & Validations




BPC Transports across Landscape

EPM BPC 10 New Transports Demo




HANA Introduction & HANA Powered BPC advantages