Find us on Google
Google+
SAP MM Training

Start Date:
Location:

Online

Method:

Live

(Instructor-led)

Tuition:
Call +1-832-419-7371 for Prices
Schedule:
Day 1
Sat 10/03/2015
Day 2
Sat 10/10/2015
Day 3
Sat 10/17/2015
Day 4
Sat 10/24/2015
Day 5
Sat 10/31/2015
Technical Requirements:
Internet:
Highspeed
RAM:
2 GB minimum
Headset:
With built-in microphone
Software Requirements:
Operating System:
Windows XP or newer
Operating System:
Mac OS
Online Meeting
GoToMeeting (GoToMeeting.com)
Remote Support
TeamViewer (TeamViewer.com)
Timing:
9am to 5pm (CST)
Books/Guides:
Step By Step Guide
System Access:
90 Days
Education Counselor:
(Monday to Friday, 9am ~ 5pm [CST])
+1-832-419-7371
Call for free consultation 281-412-7372. Looking for a career in SAP MM Module? Smart choice, SAP MM module has great prospects. Quality training available with qualified and experienced instructors.
SAP MM Training Trial Offer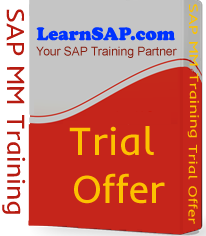 LearnSAP

strives to evolve with the marketplace, delivering skills-based SAP education that is sensitive to market needs and convenient to students. SAP solutions give
real-time visibility across the entire enterprise. Realizing the true potential of the SAP software, since 1999, LearnSAP has carefully aligned with major players in the implementation league, by offering talented and decorated resources who have proven track record throughout their time in school.
| | |
| --- | --- |
| When comparing schools, there are a lot of choices on the internet. It is important that while making the decision you compare apples with apples. This is why you should spend some time to get to know | the curriculum very well. A lot of times when there is a cheaper course available it is due to less content being covered. Our curriculum is carefully designed to exceed job expectations. |

| | |
| --- | --- |
| Too big a class and students dont get enough attention. Too small and it doesn't make economic sense to hire quality instructors. | Five students is the magic number. All of our online classes are never more than 5 students, while our in-class max number is 8. |




LearnSAP LLC

5101 Camden lane

Pearland, TX 77584

USA




Ph:+1-281-412-7372

Ph:+1-281-412-6678

Fax:+1-877-270-1243

Ms Varsha Vilankar

has a Masters Degree in Computers. Varsha has participated in SAP right from the onset of her career in I.T. in 1992.
She has worked on several SAP implementation projects and area of expertise lies in manufacturing and utility industry. Although she is a renowned Technical consultant, nowadays she spends more time managing the company's diverse needs. Varsha also
heads the two teams that manage our SAP implementation. With 32 servers and 13 different systems slick operation of our applications is a major task in itself.
Occasionally Varsha teaches ABAP and Materials Management modules. Varsha has been with LearnSAP.com since 2004 and since then has many satisfied students to her account.

| | |
| --- | --- |
| We have a special message board on our website which is dedicated to past and present students. This online community is closely watched by instructors and forum moderators to ensure that students get prompt answers to their questions and solutions for their problems. Previous students who have made it to projects also | contribute some of their time mentoring new comers. Graduates continue to use these forums to communicate with their mentors and piers about their experiences. They become the support system for each other while teachers and forum moderators continue to watch over their communication to validate the solutions exchanging hands. |
SAP MM Course Curriculum<< Back

Anybody with experience in the logistics, (purchasing, production, inventory management, Warehouse Management, Plant Maintenance etc) is a good candidate for a career in SAP MM configuration. You already know the business process, it is only a matter of learning to configure the same in SAP software.

It is easy to learn the SAP MM module if you follow the structured and tested training roadmap with milestones to compare your progress on a timeline. The instructor keeps a sharp eye on your progress and assigns extra attention to students who are in need of it.

Employers are looking for resources who are well trained in how to configure the SAP MM module in a step-by-step structured format. That is why we have carefully designed this course to exceed employer expectations. The training is hands-on right from the very beginning. Students are given access to a real SAP system to practice. Minimum required is 3 hours every day but since the access is 24x7 students may practice as much as they want.

The current version of our course curriculum is the result of contributions made by many senior SAP MM consultants who have exposure of a variety of industries in the US. It is constantly evolving to keep pace with the ever changing marketplace. This training requires that students practice hundreds of hours before even touching their resume. Our students step into the job market completely prepared to face the challenges of the complex business world.

There is a global demand for SAP MM consultants. That much said, a serious commitment and dedication is required to meet the prevailing standards. Although certification is seldom mentioned on job postings, it will go a long way to establish your worth. We urge our students to aim for certification within one month of completing the training.

For those of you who are not entirely sure about this, we have a very practical and affordable trial offer. The complete training is conducted on five Saturdays and via this trial offer you get video recording of the first Saturday plus everything that goes along with it, such as the step by step training guide as well as the SAP system access for entire 7 days. Check out the details of the offer above.

SAP MM (Materials Management) is a module of the SAP Enterprise Resource Planning (ERP) package that is used for Procurement Handling and Inventory Management, it forms the basis for all other modules of SAP Logistics area.

Day-1

Basic Overview

SAP Overview

SAP R/3 Basics
Business Framework Architecture

SAP MM Overview

Organization Structure of an Enterprise
Procurement Process
Purchase Order
Goods Receipt
Invoice Verification
Purchase Requisition




Procurement Process in SAP MM

The role of the MM Purchasing component is procurement of materials and services, determination of possible sources of supply for a requirement identified by the materials planning and control system or arising directly within a user department and monitoring of deliveries from vendors and payments to vendors.

Master Data

Materials Master
Vendor Master




Day-2

Purchasing

Purchase Info Record
Purchase Order (PO)
Purchase Requisition (PR)
Request for Quotations (RFQ)

Special Stocks and Special Procurement Types

Stock Item Orders
Non-Stock/Consumable Item Orders
One Time Materials
Service Orders, Service Entry Sheet
Subcontracting Orders

Source Determination

Source List
Source Determination

Release Procedures for Purchasing Documents (with classification)

Creation of Characteristics
Creation of Class
Release Groups, Code, Indicator, Pre-requisites
Release Strategies




Inventory Management

IM manages stocks in an organization. The stocks are managed not only on a quantity basis but also by value depending on the valuation area.

Stocks are either received or issued from inventory and are governed by Movement Type. The receipt and issue of goods can be either internal to an organization or external to an organization.

Goods Receipt
Goods Issue
Transfer Posting
Reservation
Physical Inventory




Day-3

Invoicing

Logistics Invoice Verification is situated at the end of the logistics supply chain process that includes Purchasing, Inventory Management, and Invoice Verification. It is in Logistics Invoice Verification that incoming invoices are verified and posted. When the invoice is posted, the invoice data saved updates the data saved in the invoice documents in Materials Management and Financial Accounting.




Invoice Posting
Variances and Blocking Reasons
Release Blocked Invoices
Automatic Settlements - Evaluated Receipt Settlement (ERS)




Valuation and Account Assignment

The materials valuation and the link between Materials Management and Financial Accounting is established via Account Assignment.

Materials Price Change
Materials Valuation Type
Configure Automatic Account Determination




Day-4

Materials Requirements Planning (MRP)

The role of MRP is to monitor stocks and in particular, to automatically create procurement proposals for purchasing and production (planned orders, purchase requisitions or delivery schedules). This is based on past consumption values and uses the forecast or other procedures to determine the future requirement. Consumption based planning procedures do not refer to the master production schedule, rather it is initiated when stock levels fall below predefined re-order point.

Planning Requirements
Over All Procedures
Planning Run




Reporting in SAP MM

Reporting at Document Level
Reporting with the Logistics Information System




Configuration

Enterprise Structure in MM

Creation of Organizational Levels

Plants
Storage Locations
Purchasing Organization
Purchasing Group



Assignment of Relationship between Organizational Levels

Assignment of Plant to Company Code
Assignment of Purchasing Organization to Plant

Day-5

Materials Master

Materials Type
Materials Group
Storage Conditions

Purchase Requisition

Number Range
Document Type
Field Selection
Text Types




Integration of MM with various modules

Overview of integration of MM with other modules FICO, SD and PP